Major VGL Success at Yale!
Sat Apr 14, 2007, 8:16 pm
HIGHLIGHTS FROM THE YALE UNIVERSITY SHOW!

See Exclusive Concert Videos Including Martin Leung Performing Castlevania on Historic 104 Year Old Pipe Organ

Read Audience Comments From Yet Another Major VGL Success

On Saturday, March 31st Video Games Live performed the first ever university video game concert on the esteemed campus of Yale University with the Yale Symphony in New Haven, CT. Thousands of people from all over the New England area came to see what some audience members called "The greatest concert I've ever seen! Absolute stunning magic!"

In an effort to help spread the word of Video Games Live… we have gathered together a few exclusive videos from the Yale performance including Martin Leung (aka the Video Game Pianist) performing on the 3-story 104 year old historic musical landmark Newbury pipe organ located in Woolsey Hall.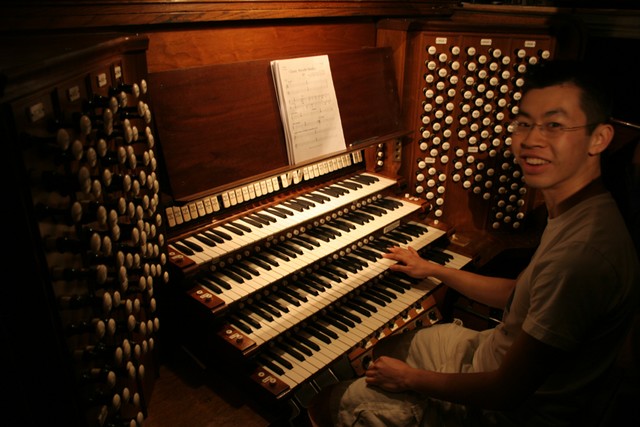 Martin Leung practicing on the 104 year old Newberry Pipe Organ at Yale




Castlevania Pipe Organ Arrangement
http://www.gamevideos.com/video/id/10481 (courtesy of 1UP.com & GameVideos.com)
http://www.youtube.com/watch?v=4804aY2JAWI (courtesy of Retroware TV)
http://www.youtube.com/watch?v=GFEZ8Y-Ibhg

Final Fantasy VII: One Winged Angel
http://www.youtube.com/watch?v=9OY8y9hsS3c (courtesy of Joe Kozachek)

Halo
http://www.youtube.com/watch?v=BKQw5f9HgHo (courtesy of Joe Kozachek)



Pictures from the show can be found here:
http://www.videogameslive.com/gallery/album38?page=1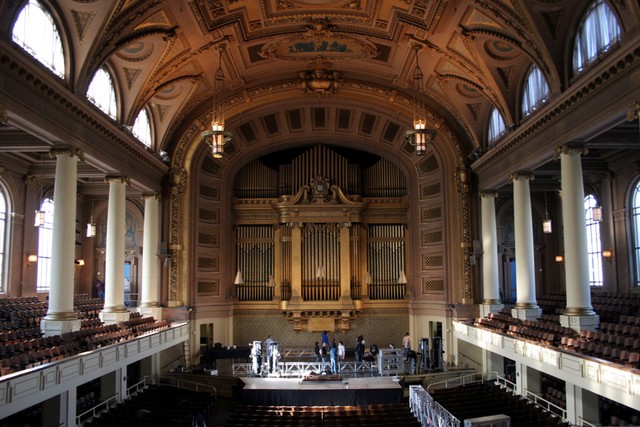 Starting to set up at Woolsey Hall






Video Games Live is such a unique concept and experience that even with video it is still hard to translate the full experience and excitement that occurs during a performance. Here are just a few reviews, e-mails and blog messages that were sent to us in regards to our New Haven/Yale performance.


"I looked around and saw one of the greatest displays of audience admiration and enjoyment, like the circus came to town but it was no circus, one of the greatest experiences I've seen."

"It sends chills down my spine. Some of the musical pieces even make me tear up. No matter how many times I see the show, I always enjoy it."

"You don't need to be a video game fan to enjoy this show. If there were ever a way to get people into the world of gaming, this has to be one of the best. It's like taking the best aspects of video games and condensing them into a 2 hour show. There's so much emotion coming from the entire VGL team, the audience themselves, the orchestra and choir…it's hard not to get sucked into the buzz."

"Do yourself a favor and find out where and when the next set of VGL shows will be. Go see the next one in your home town, make a road trip out of it and check it out with some friends, drag the family out of the house for something truly unique. No matter who attends, you will all come away with a very enjoyable experience. Do your part to further video games and to let the rest of the public know why this art means so much to you."

"We were completely blown away of the performance. The music was so beautiful and breathtaking. Of all the reviews that I read about the show, I can definitely agree with everyone who said this. "It was better than I ever expected." Thanks to everyone who help put this together. Thank You. TWO THUMBS WAY UP IN THE HEAVENS!"

"What a wonderful experience!!!!! I was excited in advance of the show, and you delivered everything I hoped to experience."

"The show was just awesome in every way, and its ending simply blew me away. I couldn't believe all the different kinds of people who showed up! Heck, even my old middle school's principal showed up with his kids! There were so many different people there that it really shocked me; I kept circling the area at the pre-show event just to see all of the people who arrived."

"It was a blast and a half. I never thought I would be bragging to my friends about attending a Symphony Orchestra performance but after seeing Video Games Live in New Haven that's exactly what I am doing!"

"I L-O-V-E-D the show. I expected it to be good but it was even better than that."

"The Yale show Rocked! I was there up in the first balcony, 2nd row. I received the tickets for Christmas and was waiting for the day feverishly. It was great, awesome and wonderful. I praise the VGL crew for producing such an amazing show."

"FANTASTIC SHOW SATURDAY!! To tell you the truth, Video Game Live is a difficult thing for the brain to comprehend... However, after seeing it and experiencing it, I can tell you first hand, UNREAL. The lights, the music, the choreography is all outstanding."

"It was really a fabulous experience. Not only was the concert itself incredible, but I learned quite a bit about the music and sound side of game development."

"Video Games Live was a great experience and I was very impressed with how well coordinated the whole event was. I am a musician myself and have a band here at Yale. I really enjoyed the emotional and cerebral experience of the music."

"I loved the show and I was knocked out by the demographics of the audience. Definitely a cool thing. I loved the lighting and I really loved the sound."

"GO TO THIS SHOW! It's even more fun than it sounds."

"I just wanted to thank you for the amazing evening at the Video Games Live concert at Yale. I had an incredible time. Best of all, though, was the reaction my mom had to the show -- she absolutely loved it, saying it was "incredible" and that she "really learned a lot." Everything you'd been saying about how the show is great for getting non-gamers interested in games is absolutely true. My mom is one of those who people who used to think video games have no redeeming value and rot your brain -- she totally loved the show and found a new appreciation for video games that night. That alone was worth it for me."





Show Preview:
New Haven Advocate