VGL in San Fran!

Sat Mar 24, 2007, 2:40 pm

VIDEO GAMES LIVE TRIUMPHS IN SAN FRANCISCO!

KOJI KONDO DELIGHTS FANS AS NINTENDO GAME LEGEND SHIGERU MIYAMOTO AND OTHER GAMING LEGENDS ATTEND SPECTACULAR SOLD OUT PERFORMANCE

READ THE INCREDIBLE REVIEWS, SEE THE EXCLUSIVE PICTURES AND EXPERIENCE THE SPECIAL VIDEO CONTENT


Some audience members described it as "The greatest show I've ever seen!" others said "It was one of the best nights of my entire life!" Music4Games.net mentioned in their review that "VGL truly shined as the premier game music concert production on the circuit and demonstrated why, as host and co-creator Tommy Tallarico put it, video games have become the entertainment of choice in the 21st century."

With all of the excitement and energy surrounding each performance it's understandable why Video Games Live continues to astound sold out audiences around the world. Friday, March 9th, 2007 marked the return of Video Games Live as the closing ceremony of the Game Developers Conference held in San Francisco. The greatest video game names and legends of all-time were present to support what the industry is calling "the absolute best example of pushing video games forward as an artistic and culturally significant art-form."

On hand was legendary Nintendo game designer Shigeru Miyamoto - the most famous and biggest name in the world for gaming. Mr. Miyamoto is the creator of the most popular franchises and characters in video games including Mario, Zelda and many more. Other special guests included a rare public appearance by Alexey Pajitnov (creator of Tetris) who also took part in the post-show meet and greet with fans. In fact over 30 big name designers, composers and talent were present for the post-show activities. The complete list of special guests can be found here: http://videogameslive.com/index.php?s=sanfransisco

But the biggest entertainment of the evening was the presence and performance of celebrated video game composer Koji Kondo. Mr. Kondo performed a world premiere personal solo piano rendition of his music for Super Mario Bros. "It was utterly stunning", said one reviewer "I was totally blown away and will probably never get another opportunity in my life to experience that. Thank-you VGL!" Mr. Kondo was also on hand to present the symphonic versions of his music from Mario and Zelda.

With so many special guests, performances, surprises and media coverage that were present we thought we would gather up as much information as we can and make it available to everyone.

Special thanks go out to our incredible sponsors at Intel, Dream Authentics, Ex'pressions College, ASCAP, Advanced Media Network, the Entertainment Consumers Association (ECA), Sega, the NARAS/Grammy's P&E Wing, Music4Games.net & 1UP.com.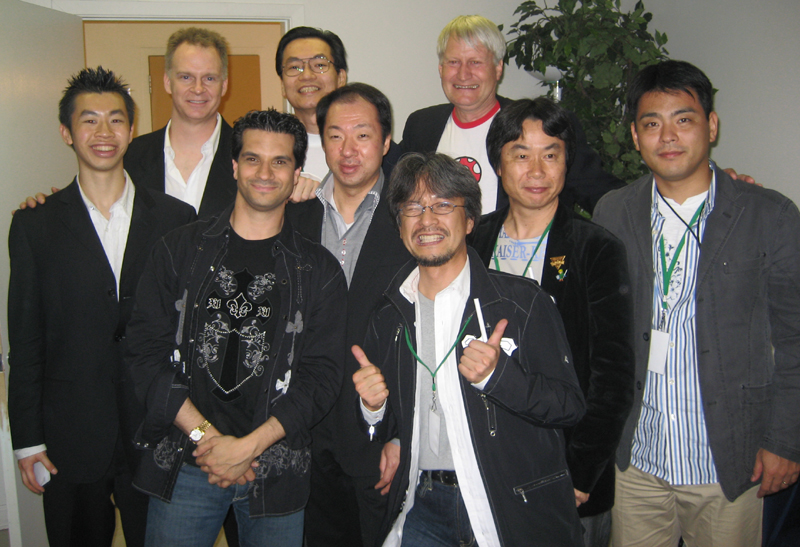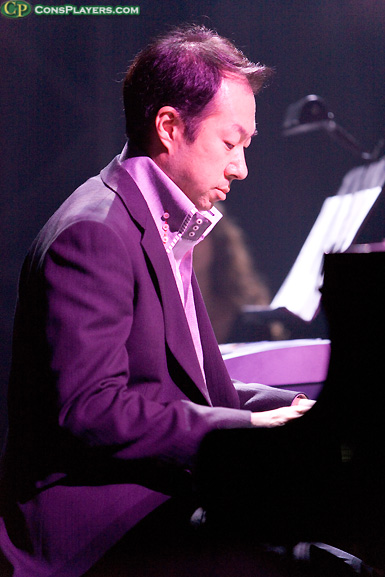 VIDEOS

Associated Press Video Coverage
http://video.ap.org/v/en-ap/v.htm?g=7c9f54d6-7e9e-4663-a546-4626c5d180ae&f=advnj&fg=email

GameTrailers/MTV Feature
http://www.gametrailers.com/player.php?id=17920&type=mov&pl=game

Koji Kondo Rehearsal
1UP.com: http://www.1up.com/do/newsStory?cId=3157934
GameVideos.com: http://www.gamevideos.com/video/id/9931
YouTube: http://www.youtube.com/watch?v=BQUW3Ip380w

Charles Martinet AMN Interview
http://www.youtube.com/watch?v=VnnqEhp_68w

Koji Kondo AMN Interview
http://www.youtube.com/watch?v=lJe_6EdUlGU

Jonathan Mann (aka GameJew) sings to Miyamoto
http://www.youtube.com/watch?v=fA8u2tqwRLg

Jonathan Mann (aka GameJew) at Pre-Show
http://gamejew.com/?q=node/31

1UP.com VGL Feature (15 minutes in)
http://www.1up.com/do/newsStory?cId=3158057

Fan VideoBlog Part 1 (Includes Pre-show, costume contest & Miyamoto sighting)
http://www.youtube.com/watch?v=czOH_kR5rEw

Fan VideoBlog Part 2 (Includes one of the best Frogger competitions so far!)
http://www.youtube.com/watch?v=czOH_kR5rEw

Miyamoto sighting
http://www.offkilter.com/2007/03/shigero-miyamoto-and-my-hand-in-same.html

Final Fantasy & Metal Gear Rehearsals
http://www.gamevideos.com/video/id/10187

We're all big fans of YouTube and love it when fans help to spread the word by posting videos for everyone else to view. Because the concept of our show is so unique, we find that our biggest challenge is raising awareness for what a show experience is like. Through the spreading of personal videos on the internet we find that more people start to get a better idea of some of the unique elements we use. We had a lot of very special performances for the San Francisco show that others may never get a chance to see and we always try to make each and every show a little unique. Although the quality isn't always the best we still enjoy some of the fan made videos that get posted. Here are some of our favorites from the San Francisco show.

Final Fantasy VII: "One Winged Angel": http://www.youtube.com/watch?v=uopqwVYy0W8
Halo 3: http://www.youtube.com/watch?v=HxwMtU05Pbc
Contra Jungle Jam: http://www.youtube.com/watch?v=Dsu4Tzgahoo
Koji Kondo live: http://www.youtube.com/watch?v=JFa_GaUAdrw
Martin plays Final Fantasy: http://www.youtube.com/watch?v=XkfdCsNqGd4
Space Invaders segment: http://www.youtube.com/watch?v=5XUxoXRSqPw
LucasArts Reunion: http://www.youtube.com/watch?v=Cp6cVT_1kfc
Dee Baker: http://www.youtube.com/watch?v=XS1pnR-yWXI
Metal Gear Solid rehearsal: http://www.youtube.com/watch?v=pLfQ0X29JDw


The audience wanted an encore so Tommy asked everyone to turn on their portable gaming systems and cell phones to light up the venue.

Digital Lighters: http://www.youtube.com/watch?v=as6ODJmzYAU




PICTURES

VGL Gallery:
http://www.videogameslive.com/gallery/album31

Backstage w/VGL Team, Miyamoto, Kondo & others:
http://www.videogameslive.com/gallery/album31/specialguests?full=1




PREVIEW

San Francisco Chronicle:
http://www.sfgate.com/cgi-bin/article.cgi?f=/c/a/2007/03/04/PKGSLO8P9A1.DTL&type=music




REVIEWS

Music4Games.net:
http://www.music4games.net/Features_Display.aspx?id=128




Game Informer:
http://www.gameinformer.com/News/Story/200703/N07.0312.1811.11992.htm




Destructiod:
http://www.destructoid.com/update-video-games-live-symphonic-bliss-for-the-gamer-soul-30377.phtml




INTERVIEWS

Wired – Koji Kondo Interview:
http://www.wired.com/news/technology/0,72971-0.html?tw=wn_culture_games_2


WIRED Koji Kondo Story:
http://www.wired.com/news/technology/0,72971-0.html?tw=wn_index_2




Wired – Tommy Interview:
http://blog.wired.com/games/2007/03/vgl_tommy_talla.html




Wired – Charles Martinet Interview:
http://blog.wired.com/games/2007/03/vgl_charles_mar.html




GameSpot – Tommy Interview:
http://www.gamespot.com/pages/news/story.php?sid=6167238&part=rss&tag=gs_news&subj=6167238




RADIO

Game Music Radio (VGL coverage starts at 21 minutes):
http://www.gamemusicradio.com/audio/TNL114-GDC2007_VGL-128.mp3




QUOTES




"This night VGL truly shined as the premier game music concert production on the circuit and demonstrated why, as host and co-creator Tommy Tallarico put it, video games have become the entertainment of choice in the 21st century."
Greg O'Connor-Read, Music4Games.net



"If you haven't seen VGL, it is a phenomenal experience. The arrangements are superb, every video is literally spot on with the music, and the audience interaction creates a fun and exciting environment that is completely unlike any concert you've ever seen before."




"That was the most fun I've had at a concert in my life."




"Video Games Live concert on Friday night was utterly stunning. I had no idea what to expect and I was totally blown away. They really have something awesome going there, and I've been raving about it ever since it ended."




"Words can't describe it. I saw something truly fantastic."




"The crowd's ecstatic reception was reminiscent of Nobuo Uematsu's triumphant entrance during the Dear Friends concert at Walt Disney concert hall nearly 3 years ago but VGL even managed to beat that since Mr. Kondo performed a brilliant rendition of his Mario Bros. theme on solo piano that showcased exactly why so many fans champion memorable game music over generic Hollywood-type scores."




"And the cherry on the cake was the attendance of Shigeru Miyamoto in the audience to celebrate Mr. Kondo's musical works."




"For those who witnessed the occasion in all its majesty, it was one of those rock n' roll tribute moments that for game music fans could be comparable to that of Queen's standout performance at Live Aid."




"Last night I saw the best symphony show I've ever seen."




"This VGL show was simply astounding, incredible, and so impactful...I was sitting there the whole time thinking about how amazing VGL is... it is doing so much to bring the industry to the masses, and was so uniting and exhilarating...it was like a big "family" out there in the audience, and when everyone pulled out their DS's and cellphones...wow! What a superb job, and I can't think of anyone who could pull this off the way Jack & Tommy have done with so much integrity, fun, and sense of dedication. Bravo! (man, we all got goosebumps when Koji played his own music on the piano...I felt like I was apart of a historic event)."




"I realized we were witnessing something special. The way the lights flickered and the chorus hummed before the beginning of each song, it was awe-inspiring."




"When it all ended, my palms hurt from all the clapping. My feet were tired from the many standing ovations that were given (and rightfully so) by the end of the night. I appreciated it all and can't wait for another opportunity to view it and listen to it again. Thanks, Tommy and everyone who put together Video Games Live. Not only did it remind me how vividly I remember the music from the games I grew up with, but it reminded me just how beautiful the artform of gaming truly is."




"It was absolutely amazing! The best concert I've ever been to!"




"Video Games Live! The best show ever!"




"Simply Amazing! What a great performance! Only at VGL can an orchestra be described as kicking ass."




"Video Games Live rocked my socks off."




"The concert was one of the best experiences I've ever had."





BLOGS

http://www.pianosquall.com/




http://candiceshane.wordpress.com/




http://headexplodie.com/blog/2007/03/giant-puppet-and-video-games-live.html