Orlando Pre & Post Show Festival Activities!
Wed Jan 23, 2008, 10:07 pm
VIDEO GAMES LIVE ANNOUNCES ORLANDO PRE & POST SHOW ACTIVITIES
First Video Game Concert in Florida to Include Costume Contest, Game Competitions, Special Rock Band Set-Up, EA Job Recruitment Table & MORE!!
Special Guests Include Game Industry Audio Veterans From Madden Football, God of War I & II, Doom, Quake, Kings Quest, Space Quest, Superman Returns, Duke Nukem, Mass Effect, Myst III & IV, Splinter Cell, Jade Empire, Earthworm Jim, Metroid Prime, Tony Hawk's Pro Skater, Time Crisis, Aladdin, Unreal II, Prince of Persia & MORE!



Hard Rock Live

presents

VIDEO GAMES LIVE

in association with

Otronicon, Full Sail & Electronic Arts - Tiburon
Since we began Video Games Live in 2002 we always received an overwhelming amount of e-mail to bring the show to Florida. After touring all over the world for the past 2 1/2 years we're really excited about performing the very first video game concert ever in Florida TONIGHT!!
Video Games Live will be taking place in Orlando, Florida on Thursday, January 24, 2008 at the Hard Rock Live at Universal City Walk. This beautiful 3,000 seat venue is considered Orlando's best concert venue and includes imposing columns, majestic archways, a grand entrance, plus the latest in sound and light technology. It sounded like the perfect place for Video Games Live!!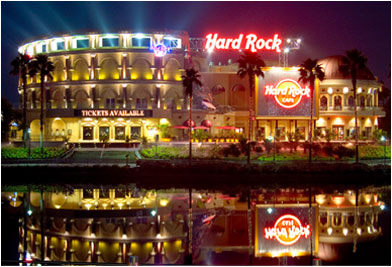 Helping us to spread the word about Video Games Live have been our gracious promotional partners and sponsors Otronicon, Full Sail University & EA Tiburon.
Please make sure to come early to our Pre-Show Festival where you'll enjoy Guitar Hero III & Space Invaders competitions as well as a special interactive Rock Band set-up like you've never seen or experienced before!! (courtesy of Otronicon and the Orlando Science Center)
EA Tiburon will also be on hand looking for new talent to get into the video game industry! Please stop by the EA Tiburon table for more info. Full Sail University will also be present to speak to people about careers in the game industry as well as some of the incredible game industry programs they have available at their university.
Our pre-show Costume Contest is always a big favorite among guests. If you have that favorite video game character costume... please make sure to come dressed up for your chance to appear on-stage before the show!
Our post-show industry Meet & Greet will consist of the following:
COMPOSERS:
Tommy Tallarico
(Earthworm Jim, Tony Hawk's Pro Skater, Metroid Prime, Advent Rising, Aladdin, Cool Spot, Spider-Man, Time Crisis, MDK, Unreal II & Tournament, Blood Rayne, The Terminator, NFL Blitz, Prince of Persia, Pac-Man World, Knockout Kings, Madden Football, Twisted Metal)
Jack Wall
(Mass Effect, Myst III, Myst IV, Splinter Cell, Jade Empire)
Gerard Marino
(God of War, God of War II, The Punisher)
Colin O'Malley
(Superman Returns)
Aubrey Hodges
(sAudio Director: EA - Madden NFL Football, NCAA Football, Nascar, Doom, Quake, Kings Quest, Space Quest, Quest For Glory)
Jesse Allen
(Nascar, Madden NFL Football, Superman Returns)
Gene Rozenberg
(NFL Street, Madden NFL Football, Duke Nukem, Meridian 59)
PERFORMERS:
Martin Leung
(The Video Game Pianist)
Gracie Wall
(Myst III: Exile)
Thank you all so much for your continued support. Video Games Live has been growing like CRAZY this past year and we know it's due in part to all of the "word-of-mouth" that people all over the world have been spreading. Please feel free to pass the above link around to as many people as possible. It would really help us out.
Hope to see you tonight!!
Tommy Tallarico & Jack Wall
Video game composers
Creators/Producers, Video Games Live
VIDEO GAMES LIVE
ORLANDO, FLORIDA
THURSDAY, JANUARY 24TH, 2008 - 7:30PM
HARD ROCK LIVE AT UNIVERSAL CITY WALK
TICKETS ON SALE TODAY!!